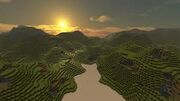 Grass
is a block in the game
CastleMiner
. it is unlocked by getting the trial or full game. You can't use grass as a block in
CastleMiner Z
because it'll automatically turn into dirt upon picking it up or by mining it. In
CastleMiner Z
, enemies can tunnel through it. Upon mining Grass, players cannot replace it. In
CastleMiner Z
, Grass is the main surface block until about 800 distance, where the surface becomes sand thus leading to the Desert Biome.
When the player creates a new world, the Spawn point (North Tower) is in the Grass biome.
Ad blocker interference detected!
Wikia is a free-to-use site that makes money from advertising. We have a modified experience for viewers using ad blockers

Wikia is not accessible if you've made further modifications. Remove the custom ad blocker rule(s) and the page will load as expected.